The Append query allows records to be restored to or added to an existing table. Append queries allow us to add new records to the database without going through time consuming data entry. This approach can be an alternative to bringing data directly into an existing table using the import tools, especially when there are mismatches between existing fields and those imported.
Importing Data to Append
The English department at the University of the Midwest is going to start using the database we have been creating. We already added the English department to tblDepartments. The English department has been keeping the list of their courses in an excel file. We want to add these records to tblCourses. Since the structure of the spreadsheet doesn't match our table structure, the spreadsheet's data needs to be imported into the database and placed in a new table; then we can append the data from that table into our existing Employees table.
Step1. To begin importing data, on the Ribbon,
Click the External Data tab
Step2. To import an Excel file, in the Import & Link group,
Click

Step3. To begin finding the correct file, to right of the File name text box,
Click

Step4. Navigate to the Access_AMD subfolder within the epclass folder.
Step5. To select the spreadsheet file to import,
Double-Click EngCourses.xlsx
Step6. To continue, if necessary,
Click the "Import the source data into a new table in the current database" radio button, Click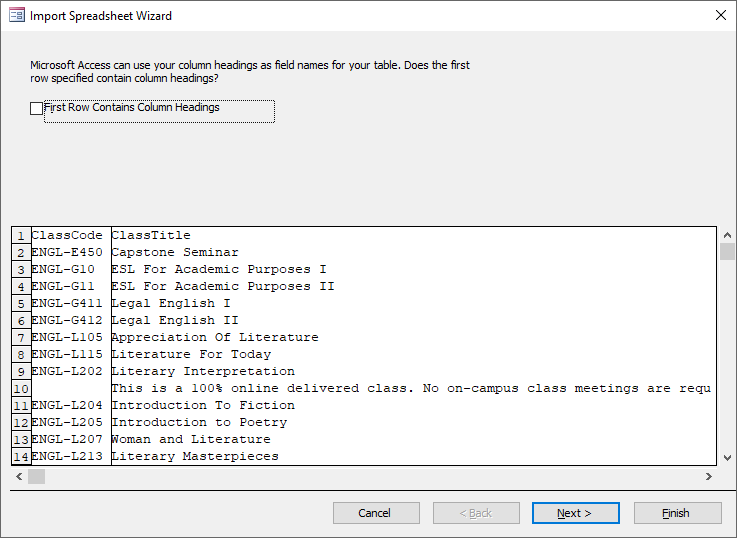 Step7. To select the First Row Contains Column Headings option,
Click the "First Row Contains Column Headings" checkbox
Step8. To finish the wizard,
Click
Step9. To close the dialog box without saving the import steps,
Click

Reviewing the Imported Data
Before we append the data to the Courses table, we should review what we imported to be sure the import went as expected.
Let's open the table.
Step1. To open the new table, in the Navigation pane,
Double-Click EngCourses
Step2. To expand the ClassTitle column,
Point between the ClassTitle and Description headings, Double-Click to expand the ClassTitle column
Step3. To start to close the table,
Right-Click EngCourses tab, Click Close
Step4. To skip saving the changes to the layout of the table,
Click