Finding images for a research poster and ensuring they'll look their best when printed can be a tricky process. It's often hard to tell how an image will look when it's printed, especially photos found on the web. You might find an image through Google Images, or a colleague might send you an image to use in a poster, and those images may look fine on a screen. Once added to a poster and printed, however, they come out looking blurry or pixelated. What happened? Why did the pictures come out looking bad when they looked so good on the screen?
Understanding image resolution
The reason that photos you found online might not look great in a poster has to do with an image's resolution. Resolution refers to the amount of spots of color per linear inch of surface, and typically uses the abbreviations dpi (dots per inch, for printing) or ppi (pixels per inch, for screens) to refer to an image's resolution. The higher an image's resolution (or amount of spots of color per linear inch), the better it will look when printed. When images are created for print, they typically have a high resolution, typically around 300 dpi — which means 300 dots of color are printed on a linear inch of paper. Images for the web are typically created and saved at a lower resolution, since the majority of screens have a resolution of between 72 and 96 ppi. This results in a smaller file size, which means the images load faster — however, this also results in a lower quality file, as there are fewer spots of color printed on the page.
If you download an image from the web and include it in a poster without checking its resolution first, there's a good chance the image will be too small and need to be enlarged to be properly seen on a poster. Let's take a look at an example of a typical image we might find somewhere on the web, a medium-sized photo of a cat.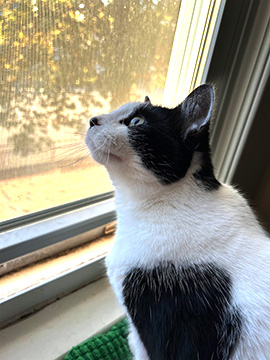 This image looks crisp and clear — however, the image is rather small. It's only 360 pixels high by 270 pixels wide, and has a resolution of 72 dpi. Let's say you incorporated this photo into a poster, and since it's small, you enlarged it in the page layout program we're using to make it easier to see. After printing out a section of the poster, the image didn't come out looking quite as clear as it did previously: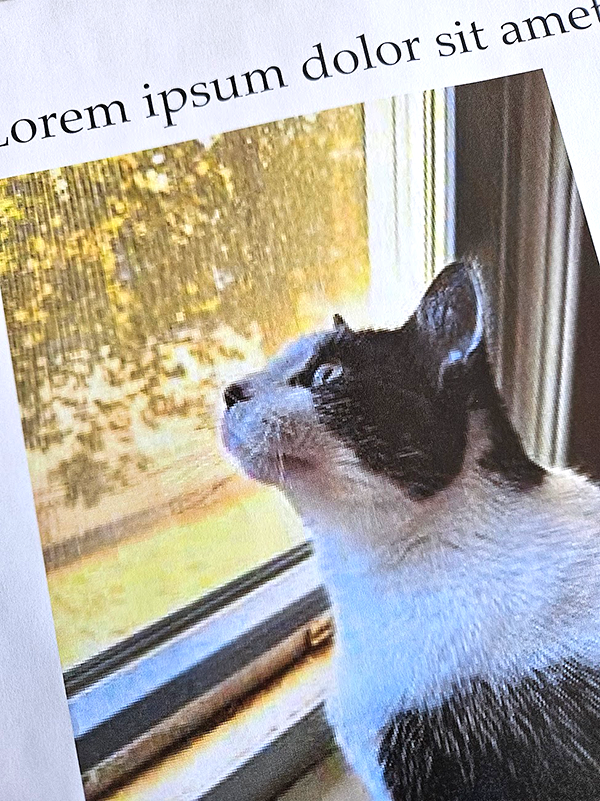 As you can see in the previous image, the cat photo didn't print out at a very high quality. Instead, it looks pixelated and a little blurry in some spots. How can you avoid including images in a research poster that won't look good when printed, like the cat photo shown previously?
Ensuring your pictures look their best
To make sure your pictures look their best in a poster, you'll need to ensure the images are the size and resolution you need before you start putting them in a poster. Enlarging images once they're in a poster will result in images that look like the previous example. You can find images that will look good in a poster by making sure you're aware of the following things when collecting images: the image's size and it's resolution.
Image size: Check the image's size - if the image is small, it likely won't print well in a poster. Aim for images of at least 1000 pixels (either for the width or the height) in size.
Image resolution: Check the image's resolution before placing it into a poster. Images with a resolution of lower than 150 dpi will likely not look good when printed.
If you happen to find images that are large enough in size (larger than 1000 pixels), but have a low resolution, you can edit the resolution so they can be used in a poster. Let's first take a look at how to find images that will be large enough to allow you to adjust the resolution before including them in a poster.
Finding appropriately-sized images on Google Image Search
When searching for images using Google Image Search, you can change your search settings to only return results that include images over a specific size. This can help ensure your images will either have a high resolution or can easily have their resolution raised. Searching for images larger than 1000 pixels should return images that will be of a sufficient size for printing, or will allow for adjustment of the resolution later.
The following steps will walk you through how to set Google Image Search to display only large images in its search results.