Now that you've written your poster text and gathered your images, it's time to focus on planning the poster's layout — this includes choosing fonts and colors, and thinking about how the different elements of your poster will be laid out on the page. Determining these design details ahead of time can be helpful when you start creating the poster and adding content, as you won't need to make these decisions as you're attempting to lay out text and images.
Choosing fonts
First, let's focus on choosing fonts to use in your poster. Fonts are one place where you can set the tone for your poster, as certain fonts evoke different feelings. Some fonts come across as more professional, while others are seen as more informal. You might be wondering: what sort of fonts should be used for headings, and what fonts for body text? There are two main families of fonts to choose from: serif and sans-serif. Serif refers to the flags at the end of the strokes that compose each letter, while sans-serif means the flags are absent. This can be seen in more detail in the following image:

Typically, sans-serif fonts are used for the poster's title and headings, and serif fonts are used for body text. Serif text is easier to read when used for long passages of small text, while sans-serif font is easier to read when it's used for larger text, such as headings and titles. Making use of fonts from the two different families helps add contrast to your poster, and makes the headings stand out from the surrounding body text.
The following image shows some examples of sans-serif and serif fonts, paired together to demonstrate how they might look in a poster: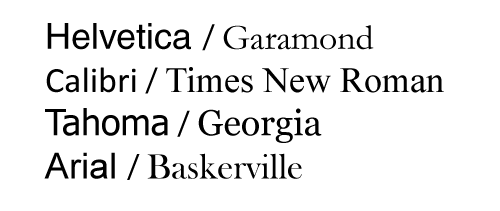 Make sure that the fonts you choose will be legible, especially from a distance, as people will be viewing your poster from a few feet away. If the font you've chosen is difficult to read from a distance, viewers might get frustrated and give up on reading through your poster's text.  In addition to choosing a font that's legible, you'll also want to make sure the size of the poster's text is appropriate for the different text elements that are present in your poster.  Following is a table with suggested sizes for different text elements for a poster, to help guide you in the design process:
| Text element | Suggested font size |
| --- | --- |
| Poster title | 72-120 pt |
| Poster subtitle | 48-80 pt |
| Headings | 36-72 pt |
| Body text | 24-48 pt |
Choosing colors
Color will also help set the tone of your research poster — in fact, certain colors can help evoke certain moods, as shown by this chart discussing the psychology of color. You'll want to be aware of the different moods that colors can evoke as you're choosing colors, and make sure that they don't conflict with the information you're trying to present. When choosing colors for your poster, you'll want to limit your choices to two or three colors at most.  
You'll also want to spend some time thinking about where will you use the specific colors you choose. Which color will be used for the background, and which color will be used for heading text? Where else will you be making use of color? Again, making these decisions ahead of time will help make things easier when you're laying out your content.  
Planning your layout
After you've chosen your fonts and colors, the last step before creating your research poster should be sketching out a rough idea of how the poster will be laid out. This rough sketch will be beneficial when you start building your poster in your layout program of choice — this way, you'll have an idea of what you want to do and where things will go before you open up your layout program and start adding elements to your poster. The sketch doesn't need to be too detailed, as it's mainly serving as a guideline to help you as you build your poster. The following examples show a rough sketch for a poster, and the finished poster that was made using the sketch.

Additional tips for designing your poster
Research posters should read from the top left of the page to the bottom right, like a book.
Avoid using images as a background for your poster, especially if there will be text directly over the background image (instead of inside of a text box that has a colored background).  Background images, especially photos, can be distracting to viewers of your poster — and busy images can make it hard to read text that's laid out over the top, especially if there's not a lot of contrast between the text and the image.
Avoid using gradient backgrounds for your poster as well. Gradient backgrounds don't often print as smoothly as they appear on screen.  When a gradient background is used in a poster, sometimes the gradient will print with banding — in other words, there might be lines where you expected colors to transition smoothly.  If you want to include a background for a poster, use a solid color instead of a gradient, and make sure there's enough contrast between the background and the text.
Keep in mind that the colors on your computer screen might not look quite the same when they're printed, so don't panic if things come out looking a little different than they do on your computer's monitor.
When including graphs in your poster, make sure that they include a title and properly labeled axes.  This will help viewers understand the data they're looking at.  You'll also want to make sure that any graphs you include are legible from a distance.
When you have your fonts and colors chosen, and have your layout sketch done, you're ready to get started with making your research poster!