Using size to emphasize importance
Proportion in page design refers to assigning importance to elements by increasing or decreasing the size of an element, while keeping it in balance with other elements in the document. The easiest way to think about it is to make the most important items on your page the biggest, and the less important items smaller. We can also think of it in terms of scale – in other words, the size of our elements and their relationship to each other. We can scale an image or text up or down as needed to catch our reader's attention.
Take a look at the following image, and think about where your eyes are drawn to as you're looking at it. What items stand out the most?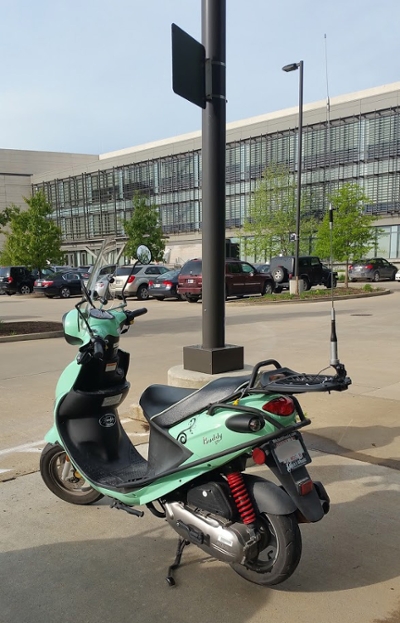 Think about how we take a look at the world around us, and where your eyes went when looking at the previous image. They most likely went to the scooter first, as it's the largest object in our field of view, and then likely to the office building in the background. Another way to think about this is if we're looking out a window — our eyes are immediately drawn to the largest, most exciting object in our field of vision, and then to the smaller objects that may be visible. We can use this to our advantage in our layouts by changing the proportion, or size, of our page elements.
Let's take a look at two different versions of a magazine page, and think about how contrast is being used in these examples.