Reports allow you to create nice, printable summaries of your data that are easy to understand. Printed reports are essentially snapshots of the data at a particular moment in time, since updates to the data after the report is printed (or saved to PDF) will not change the printout.
Reports can be created based on existing tables or queries. The report we would like to create will show a list of departments and the faculty in those departments. We can base our report on qryAllFacultyByDept. This query already has all of the information that we'd like to appear in our report.
Creating a Simple Report
We'll start by using the Report button to see if that will meet our needs.
Step1. To select a query to form the basis of our report, in the navigation pane,
Click qryAllFacultyByDept
NOTE: As with Forms, you do not have to have the database object open, just selected in the navigation pane.
Step2. Click the Create tab on the Ribbon.
Step3. To create a simple report, in the Reports group,
Click

Step4. To close the report,
Right-Click the qryAllFacultyByDept tab, Click Close
Step5. To finish closing without saving,
Click

Creating a Report with the Report Wizard
This time we'll use the Report Wizard, which will walk us through some steps to allow us a little more control for how our report will look when finished.
Step1. Confirm that qryAllFacultyByDept is still selected in the navigation pane.
Step2. Return to the Create tab, if necessary.
Step3. To open the Report Wizard, in the Reports group,
Click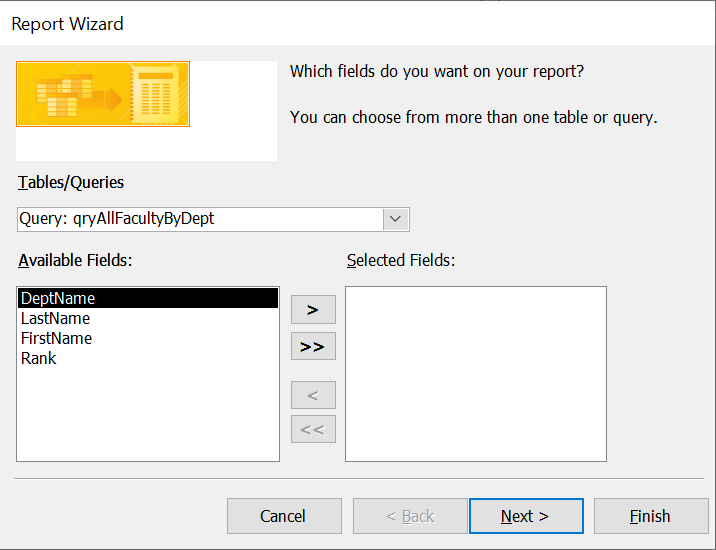 Step4. To move all fields from the Available Fields list to the Selected Fields list,
Click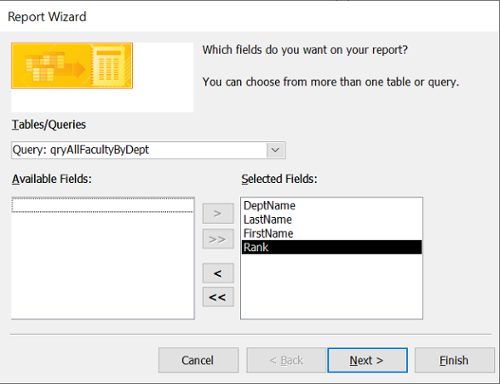 5. To continue,
Click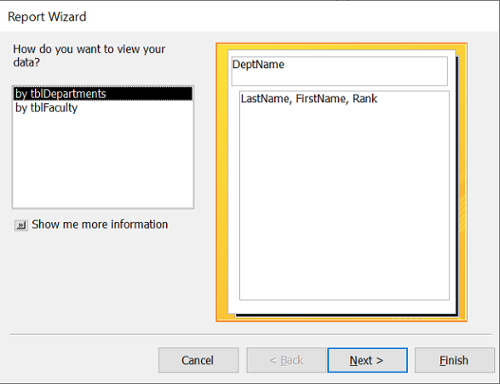 Step6. To continue,
Click

Step7. To continue,
Click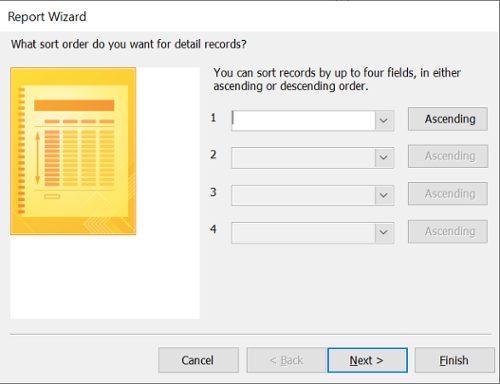 Step8. To sort alphabetically by last name, on the first drop-down,
Click

, Click LastName
Step9. To sort additionally by first name, on the second drop-down,
Click

, Click FirstName
Step10. To continue,
Click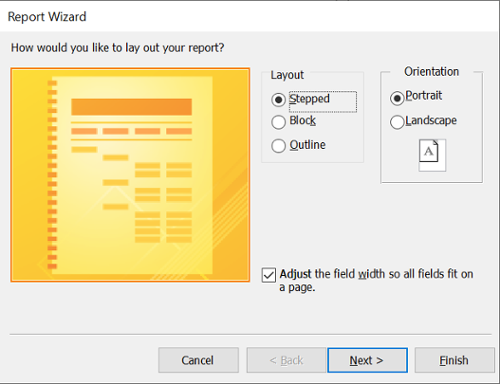 Step11. To choose the landscape orientation, in the right half of the dialog box,
Click the Landscape radio button
NOTE: There is an option on this screen to adjust the field widths so that they'll fit on a page, but the results are not always ideal, as sometimes fields are shrunk so small as to be illegible. In this case, we'll leave it selected, as it will not adversely affect our results.
Step12. To continue,
Click

Step13. To name our new report, in the top field,
Press & Drag across "tblDepartments," type: rptDepartmentsWithFaculty
Step14. To close the Report Wizard,
Click

Step15. To view the report,
Scroll down as necessary; Click

to move to other pages
Step16. To close Access, in the far upper-right corner,
Click