As with forms, there are several ways to view a report: Report View, Print Preview, Layout View, and Design View. As with other Access objects, we can use the Views group on the Ribbon or we can use the View buttons on the right side of the Status bar.
The buttons on the Status bar are labeled below:

Let's open an existing report and look at the different views.
Step1. To open an existing report, in the Navigation Pane,
Double-Click rptDepartmentsWithFaculty
Step2. To switch to Print Preview,
Click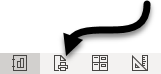 Step3. To switch to Layout View,
Click

Step4. To switch to Design View,
Click

Step5. To close the report,
Right-Click the report tab, Click Close