A web page usually contains text and images, and can also include more sophisticated elements such as sound, animation, and video. A website is essentially a set of web pages linked together. The files in a website may be hierarchically organized into directories, which may contain images and related web documents.
Document Management and File Structure
All the documents, images, and other media used for a site should be located under one main folder, known as the root folder, to prevent broken links. One of the best practices is to create a new site folder and an additional subfolder for images before beginning a new site. If the site will have many pages or files, create additional subfolders for each main category of the site. Web designers often group assets of certain types in their own subfolders, such as images, CSS styles, JavaScript files, etc.
While there are several different ways a site can be constructed, ours will have a simple hierarchical structure. Within the site folder, we will have six HTML files, a CSS file, and a folder containing images. The diagram below illustrates the file structure of the sample website: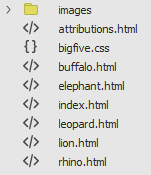 NOTE: The terms "folder" and "directory" are used interchangeably throughout this document.
Local Versus Remote Sites
Before a website is published on the web, the working version of the website files is known in Dreamweaver as the local site, because the files are typically only on the computer's hard drive. The version of the site that is published, or located on a remote web server and viewable on the web, is referred to as the remote site.
Defining a Site Locally
We'd like to use Dreamweaver's site management and organization tools, which can be accessed by defining a site. In order to define a site, we need to indicate where on our computer we are going to store the files that belong to that site. A folder called dreamweaver has already been created for the site we are going to create today. We would like to let Dreamweaver know that all the files of the site will be stored in this folder.
NOTE: The video demonstrates the next section of content.