Welcome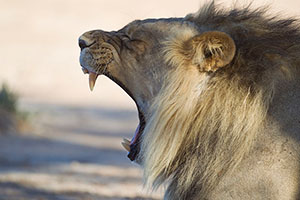 The Big Five are the Lion, Elephant, Cape Buffalo, Leopard and the White/Black rhinoceros. While the term "big five" was coined by big game hunters, we now use cameras to capture these beautiful animals while on safari.
Safaris were 'invented' in Africa, and although it just means 'trip' or 'travel' in Swahili language, the term is internationally used when someone is going to visit Africa's national parks, in search of the Big Five and other animals. Some parks adjacent to the ocean even claim to have the Big Seven, adding whales and white sharks.
One of the best countries for a safari is Tanzania, which has two of the best known parks in the world: the Serengeti and the Ngorongoro Crater.
Other traditional countries to see Africa's beautiful nature and wildlife are Kenya, South Africa and Botswana. South Africa is perfect for a self drive safari. This applies to Botswana as well, but you really need a 4wd here to visit some of the nicest parks, like Chobe National Park. A great alternative is Namibia, with better roads and some fantastic parks in the northern half of the country.
Other highlights regarding wildlife in Africa are Etosha National Park in Namibia, several more remote parks like Hwange National Park in Zimbabwe and South Luangwa National Park in Zambia, and visiting the mountain gorillas in the mountainous areas of Uganda, Rwanda, and even the Democratic Republic of Congo. Surprisingly, there are actually quite a few countries, areas and parks where few visitors go. In particular, the western and central parts of Africa are not that known to the 'safari' enthusiasts but do have serious potential. An upcoming example is Gabon, where hippos and elephants live right up to the beach!
While on safari you can also watch for the Little Five: the Elephant shrew, Buffalo Weaver, Leopard tortoise, Lionant and Rhino beetle.
Explore the rest of the site to learn more about Africa's Big Five.